The final line in The Sending section of the liturgy I use during the hour of Sext (inhale) reached out and grabbed me. Sext is the noon hour of prayer, one of eight times during the 24-hour day when the Benedictine monks, in the oldest traditions, stop whatever they are doing to pray. Here's the line:
One: Go forth, remember who you are and to whom you belong.
All: Amen.
Before that noon hour, I decided to write a post about those who came before us. Before each one of us. Specifically. Yes, I'm talking to you. Those who have come before us influence who we are and who we become. And they have something to say to us regarding the current moment (spoken in the voice of Emperor Newsom).
It was timely and appropriate that this should be the hour I chose for prayers today. Nothing happens by chance.
Have you ever wondered where you sit in the vast array of lives that have come before you, and those who will come after you? I have.
I've spent considerable time pondering the question as I prepare for the autorenewal of my Ancestry.com account, and consider the interview Jordan and Mikhaela Peterson recently conducted with Wim Hof. Wim Hof is new to me. He's apparently world famous for executing once-thought impossible physical feats. The three of them were discussing (and practicing) Wim Hof's methods of integrating the psychological and physical within the individual. In other words, methods for (re)integrating the mind, body, soul, and spirit to reach wholeness as a person. His approach involves marathonic deep-breathing, amongst other things, including taking really cold showers. I know that sounds funny, but I believe there's something to it. The neurons running through our bodies tell us more than we can know through only our conscious perceptions. Ask anyone who suffers from PTSD. PTSD is a condition of severe disintegration, and it takes work to get ourselves together. I think Wim Hof is on to something he doesn't fully understand. Not that I understand it, not at all. But as an example, take his breathing exercises.
According to the scriptures, it is God Who breathes life into each of us. Could be something to ponder (I like connecting dots).
Dallas Willard, a professor of philosophy at USC who passed away in 2013 the day after he sent me a Twitter follower notification (yeah … spooky), writes about putting ourselves in the humble position required for our hearts to be renovated (made whole) by God. And as part of The Almighty's work, He seeks to remove all divisions (all instances of disintegration) within us so that we might be whole. It's not self-actualization. Not at all. It's a clearing out of the stuff that keeps us disintegrated while allowing the Spirit to do His work of putting us back together. It's a "dying to self" and a "coming alive in Christ."
Back to Wim Hof … in addition to integrating the physical with the psychological through his various methods, Wim Hof talked about calling forward the wisdom, the traits, and the triumphs of the ancestors. He noted, correctly I think, that we embody those things of the ancestors within us, and will send ourselves along with them through our descendants into the future. My theory is that it's God's way of posterity; something this country and our constitution understands the importance of.
Richard Rohr talks about "Deep Time." The moment I heard the phrase, I saw it in my mind. I saw that, in fact, I am a single individual in a long line of individuals who were important, even if only to me, and that if I were to find out who they were, I might find out about myself. And I might see God's weaving skills at work as I discover the emerging themes manifested across time in the lives of those who've come before me.
Yes, I might get an idea of why I'm here, which is an essential need of mine in the current environment within which we find ourselves.
I also might find out why I am the way I am … a disagreeable fighter, a reasoner, a believer, a fiercely independent thinker, a person who craves more of the honorable from humanity, and a frustrated rescuer. My interpretation of Rohr's Deep Time has nothing to do with Richard Rohr's meaning behind the words, but it doesn't matter. Those words brought forward a missing dimension of God's infinite reality into my sphere of curiosity about Him and how He manifests Himself in our lives … and I'm grateful for it.
So, these two things converge. The integration of the individual, and the individual's placement among the generations living across Deep Time.
The questions are simple:
Do I want to be a fully integrated person?
And what might my purpose be given my place along the thread of generations across time?
To the first question, I say yes … and no. "Yes" to those sacrifices and difficult choices I must make to rid myself of the addictions that sustain my disintegrated self. And "no" to those sacrifices and difficult choices that come at the risk of great loss.
Yes, it's a head thing, a heart thing, a soul thing, and a body thing. Putting all of those pieces back together into an integrated whole is no small matter. My rationalizing mind, the mind that doesn't want to deal with the hard stuff, says that there are just too many points of failure to be messing with such a complex system. That's why I will remain broken … disintegrated … as long as I listen to the self-protecting, rationalizing and flawed diatribe of my inner critical voice.
So, let's make this easy and talk about the second thing: the potential purpose of a person such as myself given my place in the scheme of generations across time. Now, before I get into this, I'm making a point to you. Yes, you. This is not about me. Well, maybe a little. But my point is that this applies to you also.
*****
First, I renewed my account with [1]Ancestry.com. Although it's been active for a while, I didn't want it to expire before I discover a rich uncle in Des Moines who's been searching for me for the past twenty years. There are nearly 4,000 people in my tree: the tip of an iceberg. There remain myriad rabbit trails to travel, but don't worry. I'll be moving down one isolated path to make my point here.
On my paternal side, I come from one of the oldest families in America, the Slecht's, "founded" by my 9th great grandfather, Cornelius Barentse [2]Slecht.
[3]My father's family is from The Netherlands going back 22 generations to the year 1225 when my 20th Great Grandpa Jacob van Hilsebroek was born in Haarlem, Noord-Holland, Netherlands. Nine generations later, the story moves to America. I decided to mostly skip the earliest nine generations because the available information is fairly thin. But … there are two interesting characters to pause and take note of before we dive into the main character of the story, Cornelius Barentse Slecht.
The first is [4]Admiral Lambert Barentse Hendrickson, my 11th Great Granduncle who lived from 1550 to 1625. In Motley's History of the United Netherlands, he is called "Pretty Lambert". As an admiral in the Dutch Navy, he was a friend of Admiral Jacob van Heemskerk, and commanded the De Tijger in the [5]Battle of Gibraltar in 1607. Under the leadership of van Heemskerk, the De Tijger, along with 25 other warships in the Dutch fleet, gained victory against the Spanish who lost most, if not all, of the ships, killing or capturing between 350 and 4,000 Spaniards. This led to a 12-year truce where the Spanish Crown informally recognized the Dutch Republic, and in effect, allowed the Republic's independence. Unfortunately, van Heemskerk was wounded by a cannonball during an early engagement in the Battle of Gibraltar where 21 Spanish vessels were completely destroyed. He died from his wounds, along with nearly 100 other Dutch.
My uncle Lambert survived the battle, and I assume he returned home to his family. His wife was Senorita Jennetje y Nadal, the daughter of Manuel Gonzalez y Nadal, an officer in the army of the Duke of Alba, yet he was friendly to Dutch patriots. Uncle Lambert and Jennetje had three children, including Cornelis Hendricks, the second interesting person from the earliest nine generations.
[6]Captain Cornelius Hendrickson, Lambert's son and my 1st cousin 12x removed, lived from 1572 to 1650. He became a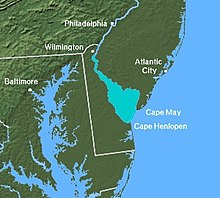 navigator and, according to the records, was the first white man to set foot on the soil of Pennsylvania and West Jersey. He is credited with discovering the Raritan and Schuylkill rivers, and he explored the Delaware to the falls, at the present site of Trenton. In 1614, he explored the coast of New Jersey in the ship "Onrest," the first vessel built in New Amsterdam. He also charted and filed the first definitive map of the New Jersey coastline, a map so detailed and accurate, that it served as a source for the English for years afterward.
When I learned of these two men, I wondered if they were representative of the spirit embodied by more of my ancestors.
*****
Let's fast forward a few generations to the year 1653, and to the main character of this story. Cornelius Barentse Slecht (1616 – 1697), my 9th Great Grampy, was living and prospering in Woerden, Holland when he was encouraged by his friend, Peter Stuyvesant, Director – General of New Amsterdam (New Amsterdam was governed by the East India Company), to immigrate to New Netherlands in America. It's not clear what Stuyvesant's reasons were, but given what Cornelius eventually did there, I suspect Stuyvesant wanted to place a strong leader in the colony. He arrived in New Amsterdam in the late spring of 1653, and shortly afterward settled in Esopus (now Kingston), Ulster County, New York. Even at 39 years of age, that's pretty gutsy. Certainly, it was a sign of things to come.
The story of Cornelius Barentse Slecht is a vibrant example of what was required of men in the early pursuit of individual freedoms (Given the previous battles between the Dutch Republic and Spain, the Dutch people had already demonstrated an insatiable appetite for liberty). Arriving in New Netherland in 1653, Cornelius quickly took his place in the community, making a living as a miller, serving as a magistrate, and becoming prominent in the civil affairs of Esopus and in the affairs of the church.
In May 1658, as Sergeant of a Military Company, he signed an agreement with Governor Stuyvesant to build a stockade in New Amsterdam and make peace with the Indians. Shortly after the agreement was signed, in September 1658, his fifteen-year-old son Jan Slecht was captured by the Indians, made to run the gauntlet, and then burned at the stake. I'm not sure what that says about Cornelius's peace-making skill, but it underscores the dangers he and the Dutch colonists faced on a daily basis. The [7]stockade itself was erected at the northern edge of New Amsterdam, which later evolved into Wall Street.
Three years later, in 1661, the governor, Peter Stuyvesant realized that Esopus, which had been inhabited for about six years already, was functioning without a formal government. You might assume that community life was chaotic. It wasn't. Most people in the inhabited areas of Ulster county were Hollanders and they abided by the laws of their native country. People generally respected the rights of others; contracts were complied with, and daily life was relatively orderly.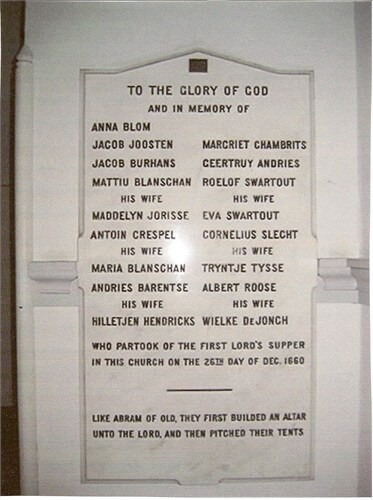 However, as the community grew, it became obvious there was a need for local government. In response, Stuyvesant established the locality of Esopus as a village and granted it a charter under the name of Wiltwyck. Cornelius was appointed by Stuyvesant to the first Board of Schepens (the colonial assembly) as one of three representatives. His wife Tryntje Tysse Bosch (my 9th great grandmother) served as mid-wife to the community. You can see both of their names on the marble plaque listing the first communicants in the vestibule of the Old Dutch Church in Wiltwyck (now Kingston).
The Esopus Wars
The sharing of land while maintaining peace with the Indians was key to a safe and civilized society (and economy), but given the differences in cultures, the relationship was tenuous at best. Although they'd been trading successfully with the Esopus Indians, an [8]incident occurred in September 1659 when Dutch settlers opened fire on a group of Esopus tribesmen sitting around a campfire drinking brandy to celebrate getting paid for farm work. Esopus tribal reinforcements raided the Dutch settlements outside the stockade, destroying crops, killing livestock, and burning buildings; and they eventually breached the walled settlement of Wiltwyck. But they did not succeed. The colonists managed to hold out against the raid and in response make small attacks here and there, burning the fields to starve the Indians out. New Amsterdam sent reinforcements, and succeeded in bringing the 10-month war to a conclusion. As part of the peace agreement, the Indians agreed to trade land for food. But the tensions remained.
[9]Almost four years later in 1663, a notification was sent from the people of Wiltwyck to the Esopus Sachem Indians, to be prepared for the arrival of the Honorable Heer Director General to receive promised presents and to renew the peace. The Sachems responded to the notification with a demand that "the Director General bring unarmed persons and sit with them in the open field, without a gate, as it was their own custom to meet unarmed when renewing peace or in other negotiations."
But that's not what happened. Instead, the Sachem's surprised and attacked the village on June 7th, entering in bands through all the gates, then dividing themselves and scattering among all the houses and dwellings in a friendly manner. They brought with them maize and beans to sell to the inhabitants of the village, but in reality they were spying to discover the village's strength in men. After only fifteen minutes, New Village people on horseback rushed through the Mill gate yelling out, "The Indians have destroyed the New Village!" While the Esopus were spying out the situation, and unbeknownst to the colonists of Wiltwyck, others of the Esopus tribe had attacked and completely destroyed Nieu Dorp, a neighboring village.
With the news from Nieu Dorp, the Indians fired a shot and immediately attacked the village from the rear, murdering people in their houses with their axes and tomahawks, and firing on them with guns and pistols. They seized whatever women and children they could catch and carried them away as prisoners outside the gates, and then plundered the houses and set the village on fire.
The attack had been quick and apparently quiet, leaving many of the more remote areas of the village unaware of what had happened until they met some of the wounded. Most of the men of the village had been away in the fields, leaving few men in the village before the attack. But not Cornelius Barentse Slecht. He was there during the attack with his son Hendrick, along with less than twenty other men. Despite their low numbers, the men responded to the alarm and ran to help secure the gates, clear the guns, and drive out the Indians.
As the other men slowly returned from their work in the fields, the number grew to 69, a number sufficient to cover all of the bastions and curtains to keep watch.
I came across a note, unsubstantiated, that Cornelius's daughter was captured and made to marry an Indian. If that's true, Cornelius must have been devastated. I can't imagine losing two children in less than five years.
*****
Without going into the detailed history of New Netherland, I need to set the stage for what happened next. The Dutch colonies of New Netherland, which covered parts of present-day New York, Delaware, New Jersey and Connecticut, were not under British colonial rule. Instead, they were governed by a corporation, the Dutch East India Company. From the beginning, New Netherland was a multiethnic, multi-religious, and multi-lingual society (18 languages). About half of the population was Dutch and the other half was comprised of French, German, Scandinavian, and a small number of Jews from Brazil. They valued freedom of worship, free trade, tolerance, local self-government, and free land that was exempt from taxes for ten years.
New Amsterdam was thriving. Trade, property ownership, and land use agreements created a healthy economy and a generally prosperous community life. But, there were problems. Tensions with the English over shipping and trade had been escalating, and on August 27th, 1664, four English frigates under the command of Richard Nicolls, a former cavalry commander on the Royalist side in the English Civil Wars, and trusted by the Duke of York (for which New York is now named) sailed into New Amsterdam's harbor and demanded surrender. A letter from Richard Nicolls offering good terms for surrender was sent to Stuyvesant, who promptly tore it up and ordered preparations for resistance. He was strongly inclined to resist, but then word came that the locals were not inclined to fight the English, and in fact, the English who had settled in Long Island had already expressed their allegiance to fight on the side of the English against the Dutch. Stuyvesant really had no choice and eventually surrendered New Amsterdam to the English in early September of 1664.
The Dutch colonists were having none of it. Loyal to the fatherland, and pretty dang feisty in spirit, they chose to resist the surrender as far as they could. And once the English established an English Garrison at Wiltwyck headed by Captain Daniel Brodhead, all hell broke loose. "Disorder, fighting, and rioting ensued." Ah yes, those pesky "mostly peaceful protests."
18 months later, on February 16, 1666, Cornelius Barentse Slecht took up arms against the English in revolt against their authority. In early 1667, he was arrested as one of the four leaders in an insurrection against the oppression of the English Commandant. In April of 1667, a petition was made, signed by a large number of New Amsterdam inhabitants, and forwarded to the Governor. It said:
"Upon the 4th day of Feb. last, upon the doleful cry and lamentation of the children of Cornelius Barentse Slecht, that their father was miserably beaten and wounded by Captain Brodhead," they had returned to his house and determined the complaint to be true. This was followed by another petition which recited "that Cornelius Barentse Slecht is beaten in his own house by his soldier George Porter, and after this by the other soldiers, and forced to prison, and at his imprisonment used very hard … and his arms by force taken out of his house which still do remain by said Captain Brodhead."
On April 16, 1667, the Governor appointed a commission to investigate the troubles, which turned out to be a formality given the findings had already been prepared. (Why is this ringing a bell?) No jury was present, and only a few allowed into the hearing. It was, therefore, easy for the commission to decide that a state of rebellion and insurrection existed, and that "the four principal instigators were Antoni d'Elba, Albert Heymans Roosa, Arent Albertson and Cornelius Barentse Slecht. These gentlemen were taken for sentencing, and Roosa was banished for life from the government; the others for shorter terms out of Esopus, Albany and New York. And again, as is common in our day, these sentences were soon modified and the accused permitted to return to their homes … yet the record states "but the spirit of resistance was neither modified nor crushed."
For his opposition, Cornelius was banished for three years. Where he went is not clear although he seems to have gone to Flushing. In 1669, he purchased property and then sold it 3 years later.
In 1683, at 67 years of age, Cornelius was arrested again (I can almost hear him saying, "I'll be back."). This time with his son Matthys, son-in-law Jan Eltinge, and Mathey Blanchan for signing a petition to Governor Dongan asking liberty to choose their own officers to town courts and to transport their own produce. Again, always seeking liberty. He died in November of 1667 in Wiltwyck (later Kingston).
*****
This is a good place to stop and step back to survey the landscape after the "surrender" of New Amsterdam. Two things stand out.
First, it was the late 1680's, over twenty years after the surrender of New Amsterdam to the English, and yet the tensions continued to dominate the relationship with the English. Given twenty-twenty hindsight, it's easy to see where those tensions would lead.
Second, the Slecht family itself grew by leaps and bounds. From 1667 to 1706, Cornelius's two sons, Hendrick Cornelius Sleght and Matthys Cornelius Sleght, had eleven sons combined.
Those eleven sons, representing the 7th generation (away from me), had thirty sons combined. That's a lot of kids.
However, at this point there was a timing difference between the two lines. The fifteen sons from the line of Hendrick Cornelius Sleght had all been born by 1722, whereas from the Matthys line, the first son wasn't born until 1717. It took 32 years, until 1749, for all fifteen sons of the Matthys line to arrive. The Matthys line did not start having children until 21 years after the Hendrick line began, and it took 32 years for all fifteen to arrive.
The upshot is this: The 6th generation (away from me) of the Matthys's line included fifteen men, of which only eight were of age when the draft started for the Revolutionary War. And they'd barely gotten started on the 5thgeneration (away from me).
Contrast that with the Hendrick line which included 33 sons (5th generation away from me) who were of all age when the draft started for the Revolutionary War. Ten of those sons served in the Revolutionary War. And they were mostly together as they did.
There are stories. Think George Washington crossing the Delaware to Trenton and the battle that ensued there.
We'll save that for next time.
*****
There are the two questions:
Do I want to be a fully integrated person?
What might my purpose be given my place along the thread of generations across time?
I already told you I'm not going to deal with the first question, but it doesn't make it any less important. The second question takes priority because, honestly, the obvious answer to the first question is yes. The struggle is in the "how."
There's hope. I believe that if you desire to become more "whole," you have to get your eyes off yourself, quit whining, and do something honorable.
Which is why it's important to answer the second question.
I hear the ancestors whispering, especially at night.
*****
If there's interest in this post, I'll take on the Revolutionary War stories next, then on to the Civil War and WWII.
P.S. Now I know why I felt like I was home with my people the day I arrived in Manhattan in 1990. It was the best feeling ever.
[1] A minor disclaimer. I meticulously researched all of this, discarding information that seemed even slightly doubtful, believe me. But there is a structure to Ancestry.com that makes fluid research across people and generations somewhat clunky. Although the best tipsters in the Ancestry space suggest opening multiple windows when needing to jump around and clean things up, I wasn't able to do that without having to log in and go through the 2FA again and again and again. And I didn't want to do that. This made the validation of sources and even capturing the source information very challenging. Where I was able to mention the source, I did, but most of this can be verified online anyway. Or if you have questions, you may message me.
[2] The family name is spelled in several in various ways, including Slecht, Sleght, Slaght, and Slack. One of those is my maiden name. You'll see these variations throughout this post. There is also a specific method used by the Dutch in naming their children, which caused me no insignificant confusion while researching, that is until I found the code breaker chart.
[3] A large portion of the basic genealogical data on Cornelius Barentse Slecht was sourced from a document prepared from records of Ulster County, N.Y. Probate Records; Flushing Records; Schoonmaker "History of Kingston: and F.L. Van Wagnen "Garrett Conrad Van Wagnen."
[4] https://en.wikipedia.org/wiki/Cornelius_Hendrickson
[5] https://en.wikipedia.org/wiki/Battle_of_Gibraltar_(1607)
[6] https://en.wikipedia.org/wiki/Cornelius_Hendrickson
[8] https://en.wikipedia.org/wiki/Esopus_Wars First Esopus War
[9] https://en.wikipedia.org/wiki/Esopus_Wars Second Esopus War